ACADEMIC BACKGROUND
After obtaining my High School Diploma with the Très Bien mention (A+), I took intensive preparatory classes on Mathematics, Physics and Mechanics to attend the top engineering school, Télécom SudParis, former Institut National des Télécommunications (INT). It is an active member of the Institut Polytechnique de Paris and the Institut Mines Télécom Network.
I graduated from a Master of Science, with an Engineering Degree, and have studied Telecommunication, Computer Science, Networks and Electronics. I am currently specializing in Cybersecurity.
In September 2022, I obtain the title of Information Systems Security Expert (Expert de la Sécurité des Systèmes d'Informations, ESSI) from the French national security agency ANSSI.
Since June 2023, I am a Ph.D. candidate in cybersecurity, focused on layers 2 of public blockchains. I have the chance to work on my research with Prof. Rida Khatoun from Télécom Paris, Institut Polytechnique of Paris on one side, and with Yannick Seurin and Nicolas Iooss from Ledger Donjon, from the other side.
---
EXPERIENCE
July 2023 – Now
In charge of supervising the French speaking course on "Blockchain" (BC-FRA), as Learning Facilitator.
Format : 2-months session, 8 modules, Intermediate Tests and Final Exam.

October 2022 – Now
Ledger
At Ledger, I am part of the product security team called Donjon, and in charge of research on blockchain security, especially on layers 2 of public blockchains. I focus mainly on infrastructure vulnerabilities that can appear while using these new types of architectures.
January 2023 – Now
AFORP – Pôle Formation UIMM Île-de-France
Teaching basics and more complex concepts of blockchains, crypto, infrastructures, Solidity's programming, blockchains' VM architectures, layers 2, blockchain security.
Format : 21 hours (7h per day during 3 days), with in addition a theoretical and practical exam.
Febuary 2022 – August 2022
Blockchain Partner by KPMG
In the Blockchain Partner by KPMG team, I am in charge of developing the cybersecurity expertise, applied to the blockchain and crypto market
My researches lead to the publication of the "Cybersecurity for Blockchains and Cryptos 2022" study. in June 2022. Download it here : Cybersecurity for Blockchain and Cryptos 2022 – Study
2019 – 2022
KRYPTOSPHERE
I have always been a great lover of science and project management. Since September 2019, I am part of the KRYPTOSPHERE project. It is the first French association specialized in Blockchain and new technologies. After managing the Paris department, I became the President of the association in France, until I passed the lead to Matthias Vallet in January 2022.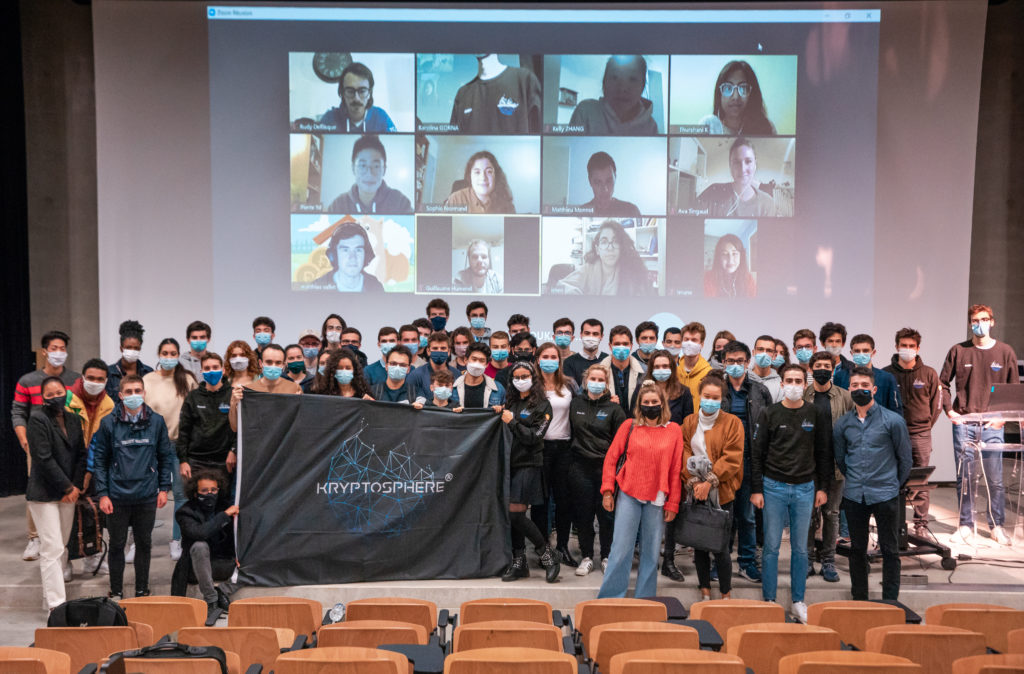 2015 – 2016
MATH.en.JEANS
It is a Mathematics club present in many schools in France, including my high school. For two years, I contributed to the research groups. We were supervised by a researcher from the University of Créteil who regularly came to guide us in our progress. We had a series of problems to solve, one of which was more important than the others, and we presented our results to an assembly of renowned researchers at the annual congresses. During the two years I was involved, we moved to Télécom ParisTech and ENS Ulm. It was an opportunity to exercise my research skills, of course, but also my oratory skills, and to meet a real community of regulars, united by a single word, passion. It wasn't the most attractive activity to do in one's spare time, but it opened my mind a lot on this field that I didn't know well initially.
---
SPORTS AND HOBBIES
I practice sports since my youngest age. Thanks to my 12 years of playing tennis, I am now taking part into departmental competitions. Moreover, I also love swimming, running, sking and most of the team sports.
During my time off, I interest myself in modern art, philosophy and astronomy, which help me to better understand our world.